From land and building surveys to tracking cattle movements, photography and videography, UAV and agricultural drone technology have transformed many industries. You are just as likely to see a VTOL machine on a film set as you are a catering truck these days, and as farms seek to oversee larger areas with fewer people, the agricultural drone has become as essential as the tractor in daily operations. From insurance companies carrying out a building survey, to emergency services locating lost or injured in isolated environments, drone use continues to expand.
Industry Developments
As new applications emerge, the ability to fly farther, carry more equipment, stay in the air longer and be faster to relaunch have all become more important, leading to rapid evolution within the industry. However, as the need to carry more or higher quality sensors, cameras and other technology, and the desire to use that technology for longer per flight has developed with it, the power needs of the UAVs have grown considerably. With pilots looking to cover a larger area, UAV development has been swift, but while every aspect of the technology has advanced, with improved sensors, increased range and stability and so on, it is the UAV smart battery that has led the way in going further, higher, faster. The Tattu Pro high-capacity drone smart battery is the newest advance in UAV power.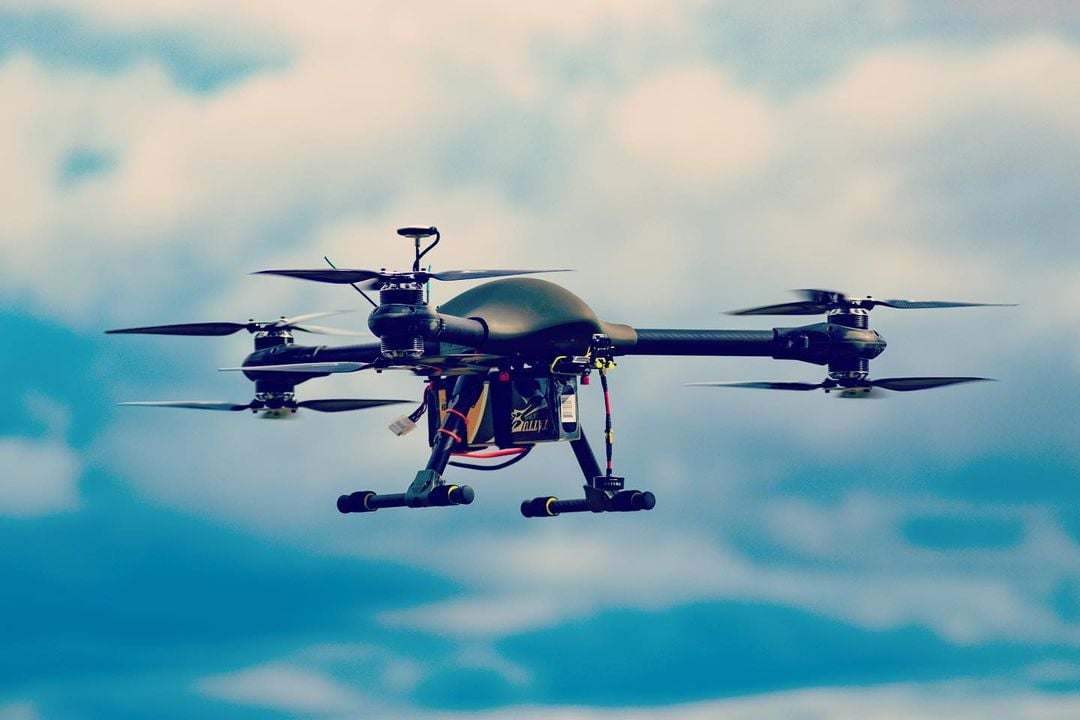 Pic from allendrones
Designed for high-demand applications, Tattu Pro is the perfect drone smart battery for 12S and 14S applications. Using the latest BMS technology, it is a true UAV smart battery, providing the continuous power and capacity to extend flight times and decrease turnaround time between operations. It features an incredibly robust structure that is compact and lightweight for ease of use, while being weather sealed to offer dust and waterproof practicality when you need to fly whatever the conditions. Designed to meet high level IP ratings, Tattu Pro is the UAV smart battery to trust when the job has to be finished.
This smart battery is also shockproof to provide the ultimate reliability in even the most challenging situations. Featuring shock absorbing devices between the case and the cells, it minimizes the effect of any impact, extending the lifespan of the drone smart battery and improving reliability. The full aluminum housing provides highly effective heat dissipation, aiding both performance and efficiency, along with a smart external an-ti spark button for safety throughout both operations and maintenance.
Tattu Pro is available as a 22000mAh capacity solution in both 12S and 14S formats, giving a power output of 976.8Wh and 1139.6Wh respectively. Both versions are rated at 25C and support 3C fast charging for rapid turnaround, with a 600+ charge/discharge cycle lifespan.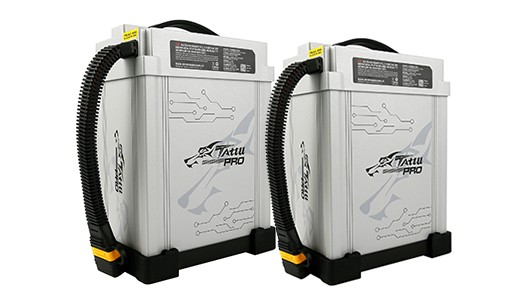 As reflects the ultimate design for a VTOL smart battery, it is available with a range of connector types to suit every application, including:
XT90-S
AS150
XT150
TA1200
AS150U-F
XT60
EC5
XT901
ANDERSON175
3.0
QS8
Whether it's getting the crucial shot or finishing a mapping and inspection survey as the weather turns bad, Tattu Pro is the high-capacity UAV smart battery that delivers every time. From the high-capacity power to its shock resistant construction, when it matters most this is the drone smart battery you can trust.
Tattu Pro is built around a state-of-the-art BMS that provides security protection, usage and technical data alongside intelligent power management to maximize performance and lifespan. Built around a robust, industrial grade ARM 32-bit processor, this dedicated battery management system makes Tattu Pro a true UAV smart battery that will provide the reliable, optimal performance you need in every situation.
This advanced BMS takes care of every aspect of the battery operation, including:
Overcurrent warning and protection
Over-discharged and overcharged warning and protection
Low and high temperature management
Smart self-balancing during charge and discharge
Smart voltage management
Short circuit protection
Smart self-heating for optimal performance in all conditions
Bluetooth connectivity
Cloud Management
YAVCAN protocol compliant
Lifespan indication
By using dependable, industrial grade components and proven software, it is designed to perform even in the most challenging conditions, ensuring that cell capacity, voltage and IR are all effectively managed for peace of mind in use and superb performance throughout the life of the Tattu Pro drone smart battery.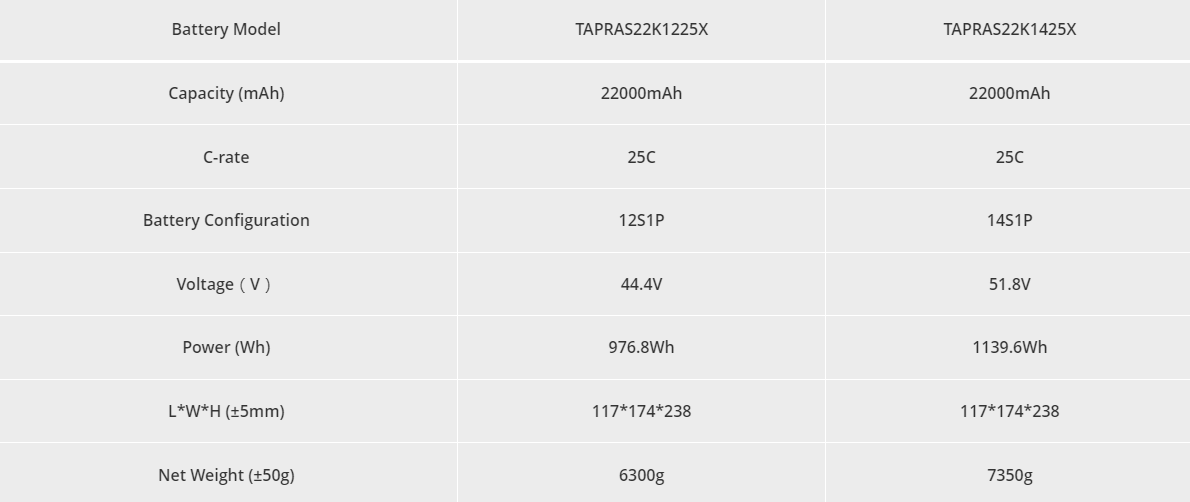 Tattu Pro's product details
Tattu Pro is the UAV smart battery built for your needs
Whether you are operating an agricultural drone service, offering building survey solutions, mapping and inspection provision, filming or any other application, your needs are unique. As an industry leader, Grepow can provide a complete custom drone smart battery service using the Tattu Pro technology.
Covering everything from custom structure design to suit bespoke applications, tailored BMS for your specific needs and OEM and ODM battery options, whatever your UAV smart battery requirements, we can create the high-capacity solution you need.
Tattu Pro in Action with Digicopter
Grepow is proud to have outstanding film production specialists Digicopter as a partner, as they use Tattu drone smart battery solutions to power their bespoke VTOL and other platforms that open up new opportunities for showreels, film production, commercials, music videos, still images and so much more.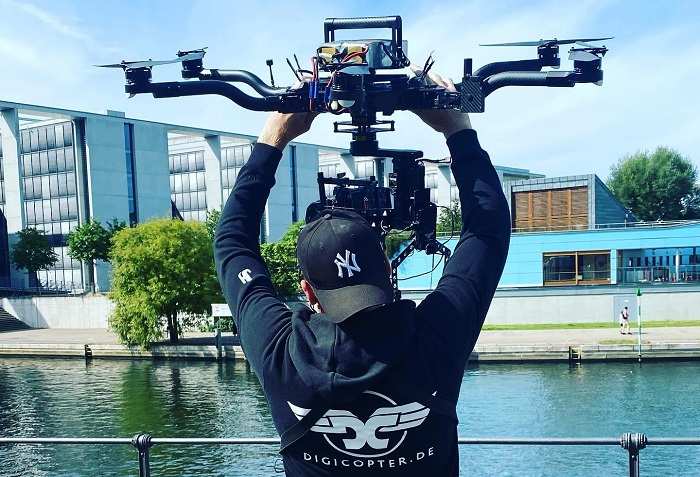 Pic from Digicopter
With the advanced battery management systems and impressive capacity, coupled with fast charging and robust construction, Digicopter maximizes shooting opportunities and operate within a range of challenging conditions, delivering superb results in every situation.
For long days on location in adverse weather, where every second of downtime is money lost, the BMS control and long-lasting power delivery is essential for production, while also giving pilots the confidence to squeeze every minute of performance out of the batteries they can.
Tattu delivers when it really matters for Digicopter and thousands of other professional drone users. Whether a custom OEM option or a trusted battery solution for agricultural drone use, Tattu Pro delivers a combination of performance, reliability and long-lasting value that is hard to match.
Contact Tattu
US Shop: https://www.genstattu.com/
EU Shop: https://www.gensace.de/
Email: [email protected]
Aritle from Gensace Blog: Tattu Pro – The UAV Smart Battery with High Capacity of the Future