Posted by Danae on Dec 17th 2021
Christmas is coming! To a joyful present and a well-remembered past! We raise a glass to you this Xmas and extend best wishes for the season.
On this most awful and warm vacation, Santa Claus arrives beforehand with the GensTattu's gift - 15% off Lipo Battery Pack. To topmost appreciation for all our friends, we offer the entire shop of 15% off discount (UAV Lipo excluded). Our Christmas wish is that you can enjoy an even brighter holiday.
Gensace & Tattu Entire Shop Gifts
15% Off Discount
Cash Back Coupons
Tattu Gensace's Christmas Party will keep chinking for a whole week, starting from Dec. 20 / 7 PM to Dec. 26 / 12 PM, UTC/GMT-8 time zone (CA time). Campaign Page: https://www.genstattu.com/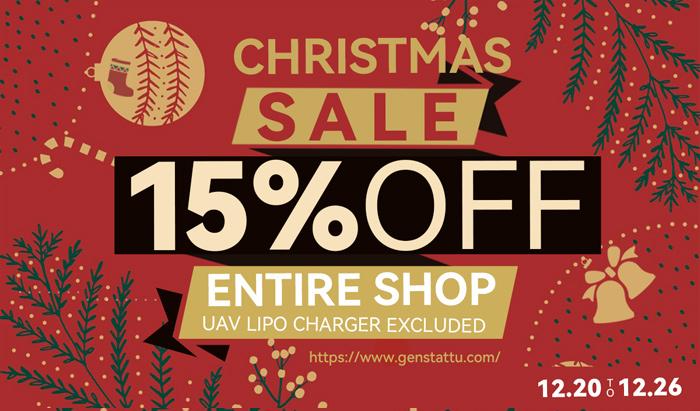 15% Off Discount
This is the longest and biggest offer maintained throughout the year, including all the Heli/RC/FPV lipo batteries, such as TinyWhoop, Sub250.
Any series of batteries you can get at good prices on the Gensace & Tattu Official Website. The series are Adventure, Bashing, Redline, Funfly, R-line version 1.0/3.0/4.0.
The Gens ace Lipo Battery offers you very high power and long run time for your RC cars. The high rate gives you enough power for acceleration. They enhance your driving experience no matter what type of driving you are into. For example, the 7500 mAh 130C Hardcase battery is widely fits the 1/8 and 1/10 RC Car Model.
Take the Tattu 650mAh 3S Lipo batteries, they provide high quality, reliable power for your multirotor FPV from size 90 to 180. The 650mAh capacity gives you just enough power to fly your FPV flying fun. They are very compact in size and weight, perfect for small size FPV frames.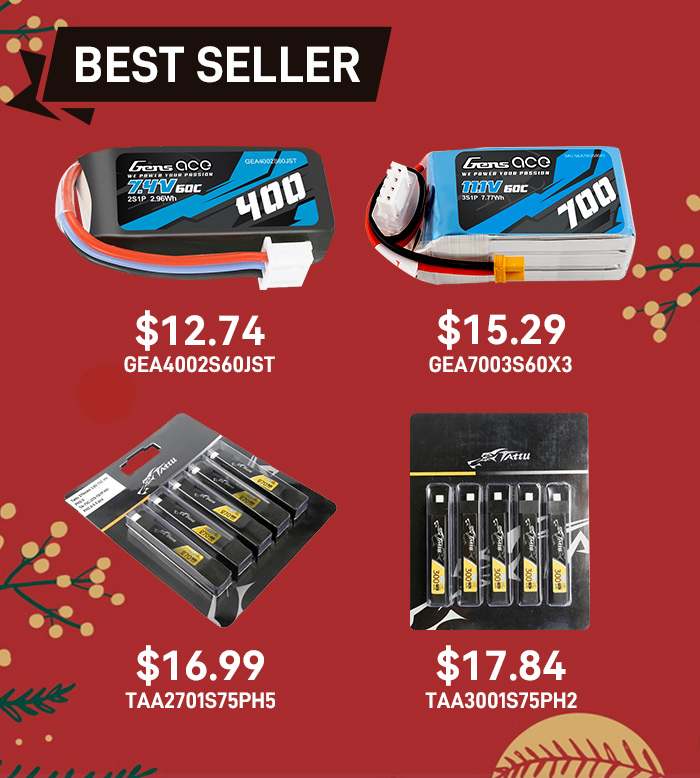 Cash Back Coupons
Let's think of more savings. Yes! They're the cashback coupons. The coupons are valid for the entire shop during the party. The details are as follows:
$10 Off Order Over $110, Coupon Code: SAVE10
$20 Off Order Over $198, Coupon Code: SAVE20
$35 Off Order Over $298, Coupon Code: SAVE35
Note: Only one coupon can be selected per order.
All Tattu & Gensace Lipos are packed with vibration-proof & fire-proof material and our luxury battery box ensures you get your battery in perfect condition. An automatic procedure & Computer system battery cell matching process ensures the battery's stability and quality. For all your power needs, please leave it to us.
If you want to ship to the EU, please place your order on our EU Shop, our EU Christmas Campaign will start from Dec.20 / 9 AM to Dec.27 / 9 AM, GMT+1 time zone (Berlin time).
Our Xmas bells are jingling! Let's cheer!